Progressive Overload.
It's one of the most important aspects to get right in your training.
When it comes to our training priorities overload is something you don't want to mess up, however it does seem to confuse many. My thinking is because there are so many different ways one could try and implement progressive overload, and this just leaves people a bit lost.
So the point of this post today is to give you one very simple, but extremely effective, way to programme progressive overload.
---
What is Progressive Overload
First I think it's important to understand what progressive overload is, and why it's so important.
It should come as no surprise to you that to get better at something you need to actually try, and try hard. That is to improve and keep improving you need to keep trying harder and harder, and that is in short what progressive overload is all about. Progressively working harder in the gym; more reps, sets, total volume and load.
A training adaption will only occur if the training stimulus provided is above what someone is already adapted to. Thus, there is a need for progressive increases in our training to provide overload.
[bctt tweet="progressive overload simply means that you're doing more over time" username="revivestronger"]
The typical example used is Milo and his lifting of his baby calf each day, as the calf grew Milo got stronger and stronger.
As you can see, there are many ways we can progressively overload in the gym:
Weight on the bar
Reps performed per set
Total sets performed
Those are the main three, and the ones I am going to talk about, because I want to keep things simple, and trust me they don't need to be more complicated. Something worth mentioning is that to properly progress in the most effective manner possible you want to standardise your form. That means you don't go doing half squats, bouncing the bar off your chest or swinging your curls, that stuff will not do.
[bctt tweet="to progressive overload; make sh*t harder" username="revivestronger"]
Leave your ego at the door.
---
Simple Progressive Overload
This simple method of progressive overload is called triple progression, I've seen it in some programmes and have heard 3DMJ and Lyle McDonald reference it in the past. It's the most effective simple way to programme to ensure you're allowing yourself to continually work harder in the gym.
In short you have a set range, and a rep range, you add sets once you have got to the upper end of the rep range for all of your initial sets and you do not add any load until you have successfully got to the upper end of both the rep and set range. I can understand if that seemed a bit confusing, and it'll become much clearer as I put it to an example: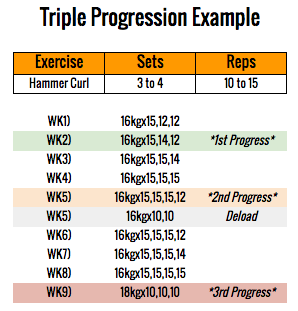 Step 1]
Add reps where possible until all sets are done for the upper rep range.
Step 2]
Add a sets once step 1 has been achieved for the current set number, until you reach the upper set range.
Step 3]
Once both the upper rep and set range has been achieved, add load and re-start.
You can view your reps as experience points, your sets as then levelling up and finally your load increase as evolving. Just like in many video games, you must earn lots of experience points, before then levelling up until you reach a level to evolve into something more powerful.
I'd not be surprised if you were a little put off by the deload, I've written about deloads before and you can read that here, in short you must have periods of reducing volume/intensity to allow for recovery, so you can keep progressively overloading.
---
Practical Application
Hopefully the above example gives you enough of an idea how you would go about implementing this straight away. Say you have been programmed specific set and reps on a movement, just open it up and have a range to allow you to progress within.
Personally I do see a limitation with this approach, in that once you get past the newbie stage of lifting progressing in a linear fashion like this isn't too likely, especially on the main compound lifts. Therefore, I would probably limit this method of progressive overload to your assistance movements.
Triple progression works incredibly well for your assistance movements, because they're often single joint and focussing on one muscle at a time. That means the loads used are going to be very small, and often the next jump up is a couple of kilos, which as a percentage is a huge increase. It therefore makes good sense to accumulate volume before increasing intensity, by adding reps, then sets and finally load.
This is the exact progression scheme we use with our clients at Revive Stronger.
---
WHAT NEXT?
Want a 'made for you' training & nutrition plan to grow lean muscle? Go here.
Join my free facebook group or add me on snapchat (revivestronger) and ask your question there, I will respond asap. Or if you'd like to learn more about sports supplements and which could help you download a free supplement ebook here.
One more thing…
Do you have a friend who would love the above? Share this article with them and let me know what they think.
[bctt tweet="The 3 Step Progressive Overload Scheme" username="revivestronger"]